"I was hungry and you gave me something to eat,
I was thirsty and you gave me something to drink,
I was a stranger and you invited me in,
I needed clothes and you clothed me,
I was sick and you looked after me,
I was in prison and you came to visit me….
whatever you did for one of the least of these brothers of mine,
you did for me." Matthew 25:35-40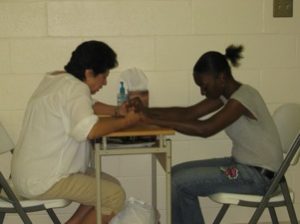 Faith Community Church is deeply committed to spreading God's word.
Seventeen percent (17%) of our annual budget is distributed to the work of various missionary projects, local and international.
Our "Mission Galveston" and our "Mission Piedras Negras, Mexico" are outlined below.
Mission Galveston
Faith Community Church supports the work of our neighbors at Mission Galveston and Mission Texas City. Under the leadership of Pastor Raju Samuel, these missions seek to meet the needs of the growing homeless population on the island by providing spiritual counseling and food and personal grooming items. The best way to find out about this opportunity for service is to join in serving a meal to some grateful people.
A team from Faith Community Church travels to Piedras Negras, Mexico in the summer and at Christmas time. On these visits we feed the children, share the gospel of Jesus, provide school supplies, clothes and toys. You can join our team and travel with us to Mexico, or you can provide items so desperately needed.